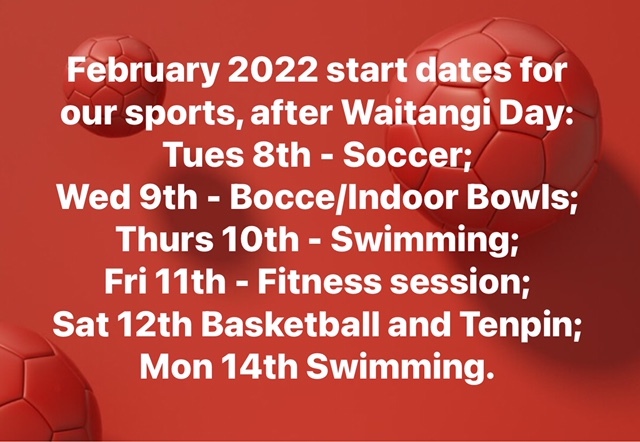 😊 Our sports sessions start again after Waitangi Day, including an informal unofficial fitness session that is open to all.
🏆 Please note that we do not have a date for the delayed Prizegiving yet but it will be in February.
Vax passes are needed for most venues, for those over 12 years 3 months old, but for most of the first term all athletes can still play soccer as it is outside. Unfortunately from the 1st April because of current Special Olympic NZ regulations, only those with vax passes will be able to take part in official sports, but can still come to the fitness session. Watch out for more detail in future posts.
There is a new organisation, PlayOn, that is planning on running inclusive sports for all and that includes adults and children with and without disabilities. They are currently taking registrations to gauge interest.
https://playon.co.nz/
(If you are registering adult children you can use the children tab if you want notifications to just come to one email.)
More information on the various regulations can be found at the following websites:
N.B. WHHS requires a vax pass to comply with the school mandates because some of their students and staff are also our athletes and volunteers.
Posted: Sat 22 Jan 2022